Spider Exterminator Ottawa
Are you looking for a trusted Spider Exterminator Company in Ottawa? Do you want to get rid of the annoying black spots on your wall? Then you have come to the right place. A2Z Pest Control offers a wide range of pest control services that are effective, safe, and environment-friendly.
We are the top spider pest control company in Ottawa that provides solutions to your problem. Our services are available to residential, commercial, and industrial clients throughout the city. We keep our clients safe by using the safest and most effective methods of pest control. We are an accredited company and our process is safe for the environment and non-toxic.
How Spider Exterminator Works
Visit Your Home / Office
Our Professional Technicians first visit and take time to understand your ant pest control needs & offer best solution for it. Our expert team will listen to your concerns, and explain the pest treatment process to guide you.
Treatment
After full inspection our Expert offer you Best Solutions that you need in your Home / Business. As per the need / requirement we suggest solutions that helps you to solve your Pest Control problem with effective results.
Follow Up Visit
After completing Pest Control our Job is not over. Our expert regularly visit your Home / Business and inspect if anything need to be done. So that again you don't have to worry about any new Pest issues.
Extra Services
A2Z Pest Control provide extra service to all of our customers. Services like Free Inspection, 24/7 Support, Free Guide, Professional Consulting, Onsite Work & lots of more services for all Home / Commercial Businesses.
Looking for Spider Exterminators in Ottawa?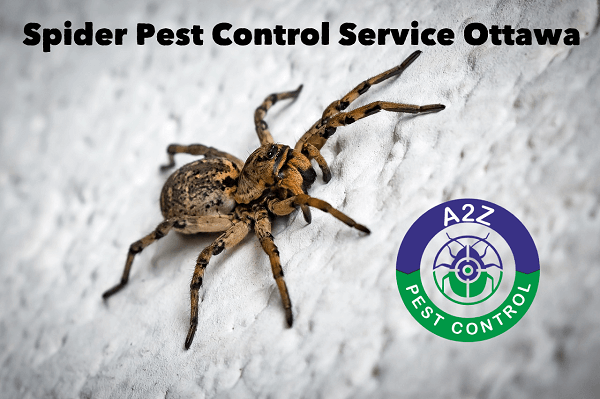 Spider Exterminators
We are fully licensed and insured. Our team of professional pest controllers will help you get rid of the spiders, mice, roaches, ants, termites, and other pests that are troubling you. We have a team of skilled and experienced staff who are well trained in pest control techniques and provide excellent services.
So if you also want a pest control company in Ottawa that provides effective services, then A2Z Pest Control Services is the right service provider for you.
Areas Cover by A2Z Spider Exterminators
Stittsville / Kanata / Nepean / Orleans / Barrhaven / Vanier / Center Town / Manotick / Kemptiville / Rockland / Carleton Place / Emburn / Navan / Greenly / Osgoode
Wonderful work by Mr. patel, amazing person and good job. Well explained and passionate about his job. On time, great price, Excellent service
I rarely leave reviews for any company but this time A2Z pest control deserves 5 star review from my side for mice pest control at my home. Highly recommended from my side for mice removal treatment.
Ottawa Summit Roofing
2021-08-29
We were killing 20+ ants daily in our house and hired them to get rid of them. After they sprayed inside and out, it solved our problem. Highly recommend this company.
Very professional and performed the work without unnecessary upselling. They got rid of our wasp nests and we are very satisfied. We highly recommend.
I found Owner is very personable, very efficient, and willing to share information. I would be happy to recommend him to anyone!
DID INSPECTION FOR THE WASPS COMING TO MY BACKYARD GAZEBO EVERYDAY, TECHNICIAN CAME AND INVESTIGATE WHERE ITS COMING FROM AND ALSO GAVE ME SOLUTION TO PREVENT WASP NOT TO COME TO MY GAZEBO, HE DID THE TREATMENT 2 WEEKS AGO AND NOW WE DONT SEE ANY WASP FLYING NEAR BY THE GAZEBO, I AM SO HAPPY WITH THE SERVICE. A2Z PEST CONTROL PROVIDE COMPLETE SATISFACTION WITH GUARANTEE REMOVAL OF WASPS.
Simon Baribeau
2021-06-26
I called A2Z about a nest of bumblebees i found in my basement. They were kind enough to dispatch a technician within 30 minutes even though it was a Saturday night. He spent an hour thoroughly exterminating the nest and explained me some things along the way. A job well done, and the next day there was not a bumblebee left alive. I only deduct 1 star because i thought the price was high for an hour of work and few materials.
Frequently Asked Questions
Do you provide a free quote?
Yes, A2Z Pest Control provides free quotes. To get a free quote from our exterminator we need detailed information related to infestation.
What are your opening times?
Timing 8 AM – 8 PM ( Emergency Service Available )
Do you offer long term service?
Yes we do customize treatment and preventative plan according to needs.
Where in Ottawa do you cover
We cover Stittsville, Kanata, Nepean, Orleans, Barrhaven, Vanier, Center Town, Manotick, Kemptiville, Rockland, Carleton Place, Emburn, Navan, Greenly and Osgoode.
How much does it cost?
Cost depend on the pest control service that you want to do in your premises or property.
Do you treat every property the same way?
No definitely not, each property is separate with different pest issues, our licensed technician have different approach to various kind of pest.
Address
176 Harmattan Avenue Ottawa,
ON, K2S2R3
Call Us
+1 613 772 0222
——————